Voting rights event: a film screening of "And She Could Be Next" and discussion of intersectionality/voting rights in the U.S. and globally.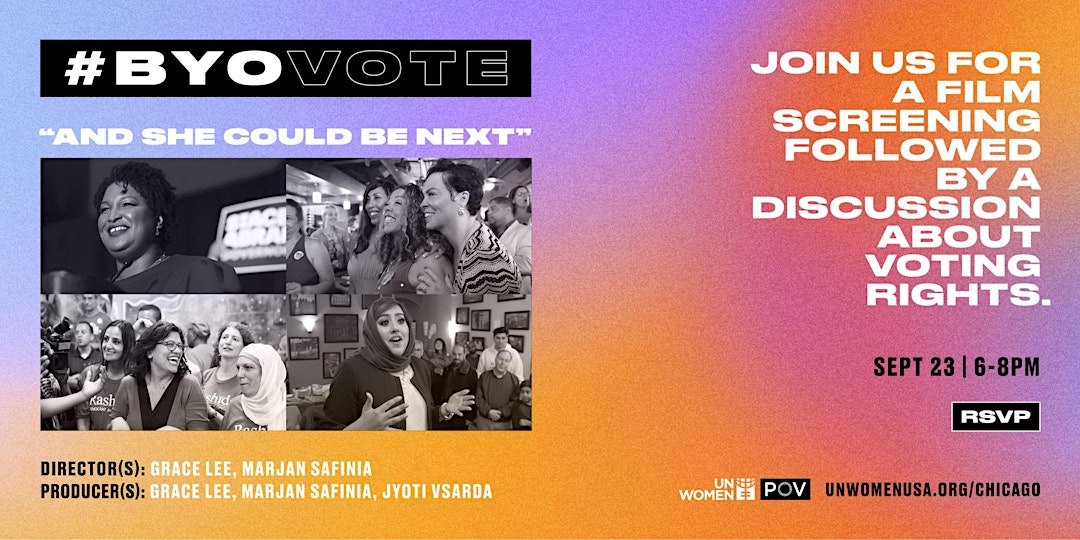 #BYOVote: "And She Could Be Next Film Screening"
Wednesday, Sept. 23, 2020 
6p- 8p CST
Register Here: https://bit.ly/2DKhPkx
"And She Could Be Next" tells the story of a defiant movement of women of color, transforming politics from the ground up. The series follows candidates and organizers across the country, asking whether democracy itself can be preserved—and made stronger—by those most marginalized.
The virtual screening will be followed by a live discussion on voting rights led by host Bianca Betancourt, writer and editor for Harpers Bazaar, and featuring Jillian Cross, manager of operations at Newcastle Limited, especialized in ancestor's advocacy and tenant rights and great-great granddaughter of Ida B. Wells-Barnett; Michelle Rodriguez, International Relations Post-Graduate Student at Harvard's Extension School and Member of UN Women's Public Policy Committee and Melanie Hayes King, attorney in private practice in Chicago, specialized on estate planning, real estate, criminal defense and civil litigation.
The conversation will explore our panelists experiences, the power of community mobilization, dynamics of voter suppression, women of color exclusion from power and the urgency to accessibility to foster more spaces of belonging and representation.
When
September 23rd, 2020 6:00 PM